Breakfast With Santa
We are excited to welcome our community back to our annual Breakfast with Santa event this year.
Doors open at 9AM and we will be serving our pancake breakfast up until 11AM.
Children (13 and under) meals are $5 and include; 2 pancakes, 2 sausages, a drink, teat bag and a present.
Adult meals are $6 and include; 3 pancakes, 3 sausages and a drink.
See you on December 11th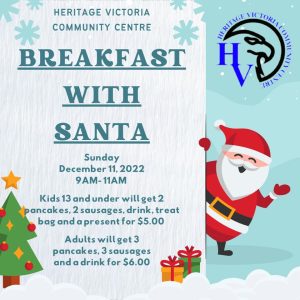 Heritage Victoria Community Centre AGM
Our Annual General Meeting has is scheduled for Sunday November 27, 2022 at 7PM. We welcome all to attend this meeting.
If you are interested in becoming a volunteer board member with Heritage Victoria Community Centre please email HVCC@mymts.net

---
GLOW-IN-THE- DARK LASER TAG
8 Weeks for $120
Starts Monday October 17, 2022 and/ or Wednesday October 19, 2022
6:30-7:30 PM Ages 7-10
7:30-8:30 PM Ages 11-14
OR Drop -in- $25- October 5- December 14
6:30-7:30 PM Ages 7-10
Contact Gotcha Games at: 204-815-7827 or email gotchagames999@gmail.com